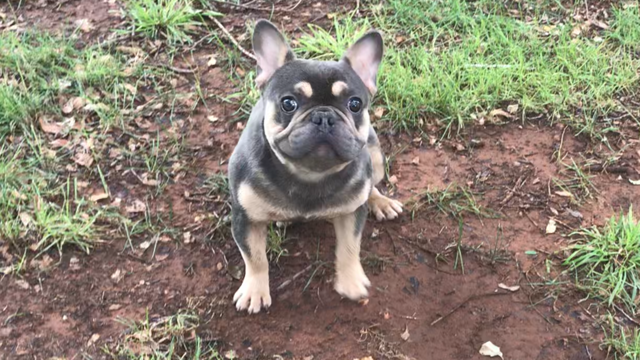 Hercules is a Blue & Tan. He has Love My Zeus, Don Choc and Beast Nectar of the gods in his pedigree
He carries Cream and chocolate He doesn't carry Brindle or pied
dd BB Coco Ee atat KnKN Emem nn
He will produce Blue, Chocolates, Creams, Champagnes and Platinums with Tan poimts. He is a smaller cobby boy with great ear set small tail and lots of character, His Tans points are really clear thats the ATAT combined with a copy of cream.
Who should use him? If your girl has too much back, a longer tail, Crazy big ears, a long neck or legs or too much muzzle, This boy can help. He is exactly the way a frenchie should look.
and he can reinforce or add color to your pups.
With a fawn get fawns that carry blue and tan points, some cream and chocolate too
With Brindles Half Brindles half fawns  All will carry blue & tan points, some cream and chocolate too
With Blue All bluesthat carry or have  tan points, some will carry cream and chocolate too
With Chocolates  1/2 Chocolates 1/2 fawns that carry blue  &  tan points, some will carry cream
With Lilacs 1/2 Blue that carry choc & 1/2 Lilacs. All carry or have tan points & some will carry cream
With Platinums Blues, lilacs and platiums. all will have or carry tan points1/2 choc