Heated Whelping Kit – Keep Them Safe and Warm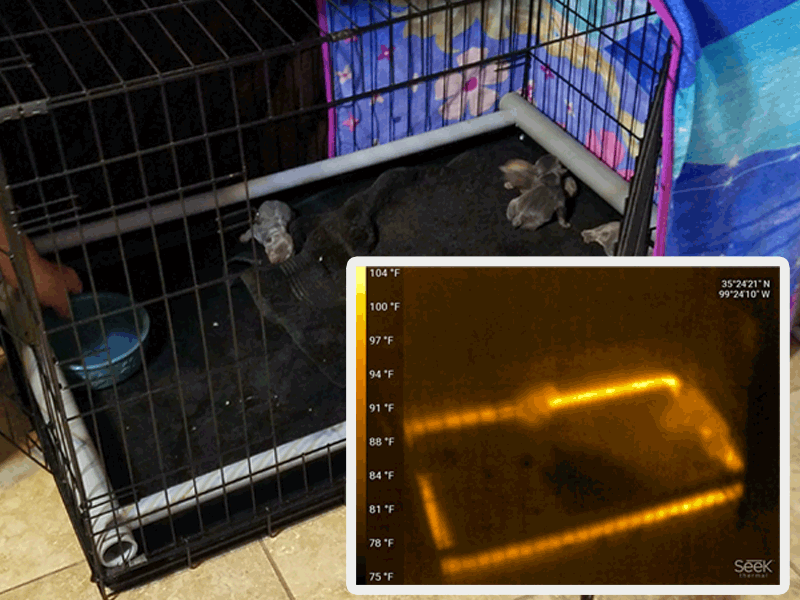 The picture above shows the puppies under the pig rail. The smaller infra-red camera picture shows why they are there. That's the place that is toasty warm and they are safe too!
We have over 600 people using this whelping system. It really works
The Best and Safest Whelping System you can buy. (Patent Pending)
Q: Where is the safest place in a whelping box?
A: Under the pig rail.
Q: What are two killers of young puppies?
A: Getting cold and being squished by mother.
Q: Why does your dog hate every other whelping box?
A: She is either cooked by a heat lamp or baked from a heating pad.
 The solution is to put the heating system under the pig rail. The puppies either nurse on mum, or their bellies are full of milk and they fall asleep on the warm floor under the pig rail. And your fur coated mother dog is happy because she is not getting any of this extra heat that makes her pant and want to stand up and get the heck out of the box. Now dam is happy to be with her babies, in fact she will want to be in the box. And most importantly your babies are content, quiet and safe.
Seems obvious now you see it. Fact is it took years to realize and then fabricate the solution. We now have a patent pending on this simple and so effective solution.
Our Heated Whelping Kit includes: Heater Tape with Thermostat.
This Kit Does Not Include PVC Rails or Crate.
If you order a Custom size you will need to contact us with your measurements. When measuring a crate floor tray, measure the length and width of the flat part where the puppies will lay. Do not include the lip of the tray in your measurements. (In inches please)
Sizes (Length x Width in Inches):
OxGord Double Door Crates 42″ X 27″ (Includes 4 piece pig rail adapters)
EZwhelp Classic Value 38″ X 38″
Dura-Whelp Small 34″ x 34″
Dura-Whelp Medium 40″ x 40″
Dura-Whelp Large  48″ x 48″
Dura-Whelp X-Large 60″ x 48″
Custom Size (You will need to contact us. Ask if you need pig rail adapters.)
Visit www.mybreedersupply.com/whelpingkit for even more information.
 Prices $195- $215
4 Pig Rail adapters $16 (uses 1 1/2″ PVC pipe you supply)
The 2XLL 42″ crate from OXGord is only $48 including shipping from Amazon. I like this crate, it is tough with a nice strong plastic removable heavy duty plastic floor. It has a top and two lockable access doors. My Frenchie mums feel safe inside. There is plenty of room for a big litter. I can put a blanket over the crate if we have visitors and always at night. The rest of the time mum can see out and feels safe and secure. The pig rail is absolutely critical. With out it, you run a very significant risk of squashed and suffocated puppies.
Every commercial whelping box uses either a heat lamp or a heating pad. Your Frenchie will hate them and so do I. Heat lamps are closest to mum. She is already hot and now you are going to cook her? Heat pads either heat the entire floor or only a part of the floor. Again if you heat the floor hot enough for puppies (105-110F), then mum will be panting and not wanting to be in there with her puppies. If the pad only covers part of the floor there are cold areas. Puppy death zones!
With perimeter heating the puppies migrate to the pig rail. This is absolutely the safest place to be. They will sleep there for hours and only move when they are hungry. We leave mum with her babies 24/7. She is happy to be there. The puppies are nursing and warm or under the pig rail, safe and warm.
We even have models to install on the Dura-whelp and EZ-Whelp boxes. And we can custom build a system to add to any whelping box too!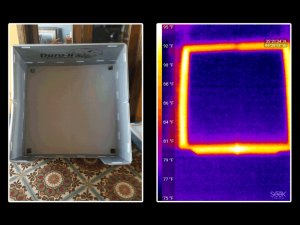 You can purchase and get more information about the Heated Whelping Kit we helped develop at My Breeder Supply.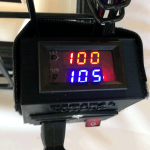 Whelping Kit: Heater Tape with Thermostat: $199.00 + $15 shipping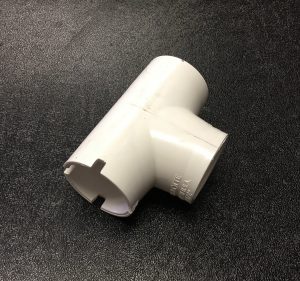 Whelping Rail Adapters: $16.00
---
How I got here
The Design Process. Initial ramblings on Whelping boxes
The single biggest reason for loosing puppies is a poorly designed whelping box. And all the commercial products fail in one or more ways. My intention is to fix that. I have been building and experimenting with Whelping boxes for some time. My goal is to manufacture a box that can be shipped easily. Be assembled fast and disassembled when the litter is raised and stored for future use.
Cold is the number one puppy killer!!!
Warmth is provided by the mother's body, newborn puppies can't regulate the temperature for the first week, So they have to have a source of heat keep them from getting cold.
Puppies snuggle up to mother and keep warm but they also get pushed away from mother by competing pups. Smaller or weaker pups can end up in an area where there's no heat and lose body temperature quickly. A cold puppy will become lethargic and die in a matter of an hour or two.
There are a number of ways to provide heat. The problem is all but one solution cooks mum. She is already generating a lot of heat with milk production. And she will not want to lay down and would rather leave the whelping box. Turning up the home heat doesn't help at all. The pups need to be at 100F or more.
A heat lamp is a horrible solution. It is much closer to Mum so she overheats immediately and can even get a sun burn.
The solution is to provide a heating pad and warm the puppies from below. This is much better but there are still problems with heating mother too much and the possibility of electrocution if there are cables mother can chew.
There are three crucial things the newborn puppy must have to survive milk, warmth, and not being smothered. The Mother needs to feel safe, be comfortable, have room and not get over heated. You, as care taker, need easy access to check and care for puppies and be able to control mothers access.